Bypass MDM Profile on iPad using Serial number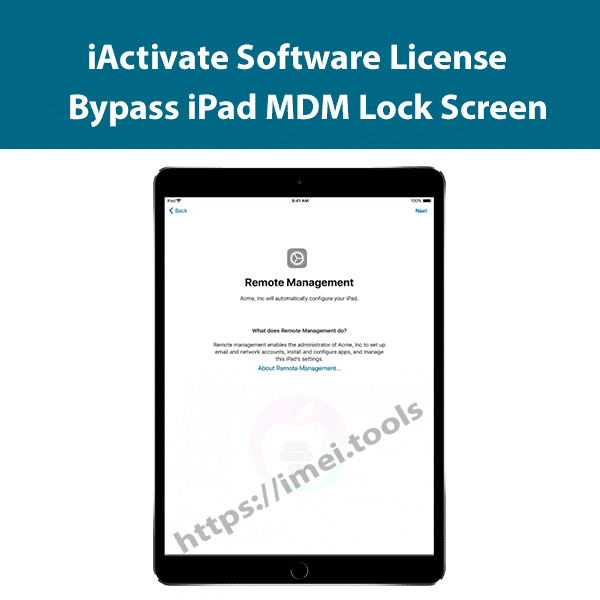 Roll over image to zoom in
Click to open expanded view
PRICE: $44.99
Bypass MDM service offers to remove MDM profile from iPad using Serial number. The MDM Bypass works remotely. It supports any iPad model and all iOS version.
Benefits of Remove MDM Lock:
– iActivate program is universal (suitable for iPhone, iPad, iPod Touch);
– The program is easy to use;
– All iOS versions are supported;
– Windows and MacOS operating systems support;
– MDM profile activation lock bypass takes few minutes only!
Compare
Customers who bought this item also bought
What is iPad MDM Configuration Remote Management Profile?
MDM profile (Mobile Device Management) allows companies and organizations to remotely install apps and configure corporate-owned iPad used by their employees via remote control profile. MDM corporate environment administrator can remotely disable features, install and uninstall apps, monitor and track employees` location, restrict Internet traffic, lock or even wipe Apple devices.
Why I can't activate iPad with MDM corporate remote management profile?
Every corporate Apple device with remote control MDM profile installed on it, whether it's iPhone or IPad, is always protected by unique username and password assigned to each employee by IT department administrator. An additional authentication step is created for corporate devices which differs from Apple ID (iCloud) activation lock. The difference is that all user's credentials (login, password) are not stored on Apple's server, they are stored directly on the company's servers. This is the reason why administrator is the only person who can delete MDM profile from iPhone or iPad and Apple support won't help you with this issue.
How to check if my iPad is corporate owned?
You can remotely check your iPhone for a remote control profile using its IMEI or Serial Number at our website: online MDM check services.
How to remove – bypass MDM activation lock from iPad?
iActivate software is developed to bypass MDM profile lock on iPhone or iPad. This is a quick solution to bypass and delete MDM profile of Mobile Device Management configuration on any iOS device.
If you see following message on iPhone screen "Corporation will automatically configure your iPhone" or "Please enter your credentials to authenticate your device" – device activation lock (MDM profile) is installed on the device and it is managed (controlled) by an organization.
Attention! Do not confuse MDM lock with Apple ID activation lock. iActivate Software can't delete MDM remote control profile if "Find My iPhone" feature is enabled on your device! Check Find My iPhone status by IMEI
What is needed to order MDM Lock Remove Service?
Make sure that your device actually has Mobile Device Management Profile (MDM) activation lock. MDM lock screen example below: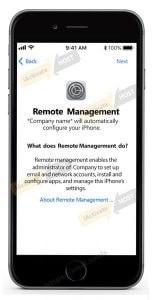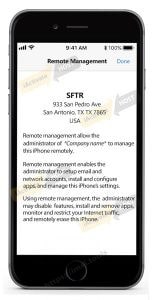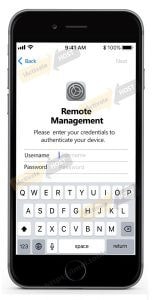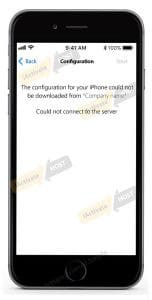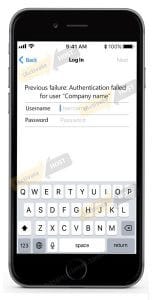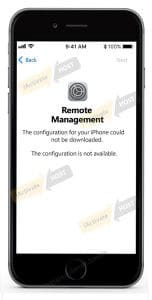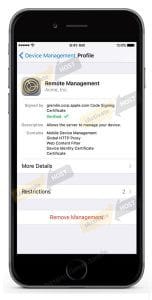 Fill out the order form – indicate IMEI Number of the device.  Here you'll find instructions on how to find IMEI or Serial Number. After your payment is cleared, your IMEI or Serial Number, will be added to iActivate Database. Once your order is processed, you will receive an email notification about IMEI or Serial Number adding and a link to download the software.
Download iActivate software. Launch it on your PC. Connect your iPhone, iPad or iPod to the PC and follow the onscreen instructions.
After MDM profile is removed, your device will turn on and ask you to configure it. Set up your device AS NEW.
Where to download MDM profile removal software?
You can download the latest version of MDM removal software using this link:
Additional information
| | |
| --- | --- |
| Time Delivery | 1-5 minutes |